Description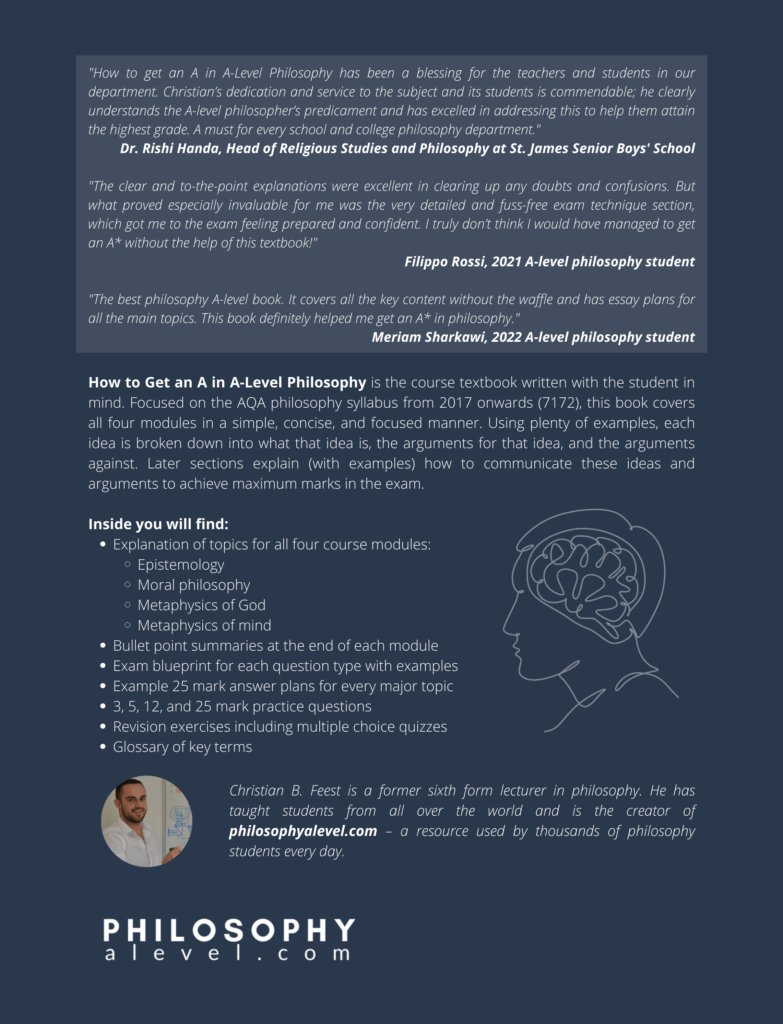 How to get an A in A-level Philosophy is the course textbook written with the student in mind. Focused on the AQA philosophy syllabus from 2017 onwards (7172), this book covers all four modules in a simple and concise manner. Using plenty of examples, each idea is broken down into what that idea is, the arguments for that idea, and the arguments against. Later sections explain (with examples) how to communicate these ideas and arguments to achieve maximum marks in the exam.
Inside you will find:
Explanation of syllabus topics for all four modules:

Epistemology
Moral philosophy
Metaphysics of God
Metaphysics of mind

Bullet point summaries at the end of each module
Exam blueprint for each question type with examples
Example 25 mark answer plans for every major topic
3, 5, 12, and 25 mark practice questions
Revision exercises including multiple choice quizzes
Glossary of key terms
---
Short and sharp revision notes…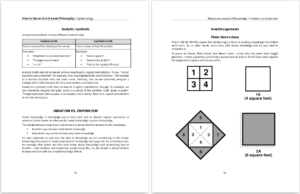 …written in plain English and in a way that is practically useful for the exam:
What each philosophical idea is
The arguments for that idea (and responses)
And the arguments against that idea (and responses)
At the end of each module, bullet point summaries condense all the key information into a few pages.
The exam technique sections…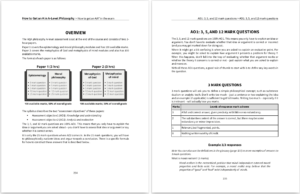 …explain how to hit the assessment objectives (AO1 and AO2) and get top marks for:
3 mark questions
5 mark questions
12 mark questions
and 25 mark questions
A* example answers are given for the various question formats. And for the 25 mark questions, example essay plans for all the major topics will show you how to construct a balanced and consistent essay that argues with intent towards a logical conclusion (this is really key to getting an A+ in the exam!)
The book also includes…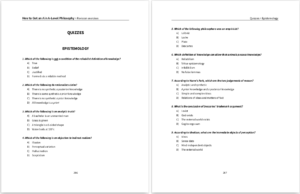 Multiple choice quizzes
Practice questions based on the AQA exam format
Last-minute revision checklist
A syllabus checklist
Glossary of key terms
And a reading list with links to the original source material
---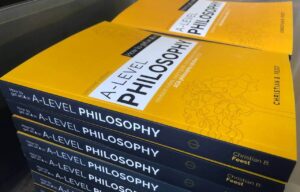 Second edition published September 2022
Pages: 333
Size: 18.9 cm x 1.91 cm x 24.61 cm
ISBN: 9798719524658
---
UK purchases of How to get an A in A-level Philosophy will be sent via Royal Mail second class standard. You should receive your book within 7 working days of purchase (international deliveries may take slightly longer).
If you have not received your order within 7 working days of your purchase, please use the contact form here.